Payment Methods

1. Pay.nl

iDEAL
If you use internet banking from ABN AMRO, ASN Bank, Fortis, ING, Rabobank from SNS Bank, you can immediately use iDEAL.
iDEAL offers you a number of advantages over other payment methods:
iDEAL is safe, fast & reliable; iDEAL is supported by the major Dutch banks;
we do not charge any costs for using iDEAL.
How does iDeal work?
At the checkout of the order you can indicate that you want to pay with iDEAL. You will then be directed to your own bank where the payment order is ready for you. You will be asked by your bank to enter a number of details and then you authorize the payment. The amount will be directly debited from your payment account and we will be informed that the order has been paid. Glow Specialist will process your order immediately, if ordered before 4.30 pm on working days from Monday to Friday. In most cases your order will be delivered the next day.



MasterCard / VISA



Payment by credit card.
TRANSFER: PREPAYMENT BY BANK TRANSFER

If you choose to pay in advance, you need to make the amount.
Our bank details : IBAN NL19RABO0353273325
Once payment has been received, we will ship your order. It usually takes between 1-4 business days for your payment is credited, so it may take 2-5 days before your order is delivered.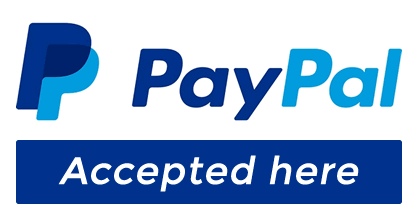 2 - PAYPAL (FOR CREDIT CARD) 
If you choose to pay with PayPal, you will be redirected to the PayPal website where you must enter your PayPal email address and password. Paypal is a completely secure and fast payment. You can use this if you have registered with Paypal. You only need to do this once. You go to www.paypal.com and fill in your details there. You can link a credit card to your Paypal account or pay by bank transfer. Paypal is like a middleman, who makes your payments for you, so that your data will never end up with the seller. Glow Specialist will immediately process your order, if ordered before 15:30 on working days from Monday / Friday. Your order will be delivered the next day in most cases.

3 - Billink,
Pay afterwards with Billink, also for business orders!
Order online now, pay afterwards what you want to keep. Paying with Billink is very easy. You order what you need and select during the payment process that you want to pay with Billink. Would you like to pay for a business order afterwards? No problem! After receiving your order you only have to pay for what you want to keep. You will receive a handy invoice from Billink, which you then pay within 14 days. See first, then pay!
Pay afterwards in 3 steps
With Billink you pay afterwards and only for what you want to keep. This makes online shopping easy and safe.
Step 1: You order a product via the webshop as you are used to and choose Billink as the payment method.
Step 2: Your order is delivered. You can take the time to determine whether you like the products. Are you not satisfied with part of your order? Please contact us via [email protected]
Step 3: After a few days you will receive the invoice by e-mail. You can always find the current amount in the Billink app. No stress! By default, you have 14 days to pay. Does the webshop not respond to messages about the order or the return procedure? Please contact Billink to use the Billink Purchase Protection. This way, Billink always protects your purchase. Billink, first see then pay!
(Billink is only possible in the Netherlands and Belgium)



4 - PAY & COLLECT
Orders placed on our website can be picked up the same day (monday - friday, 9h30 - 17h30).
In our showroom/warehouse in Ommen, you can pay by cash or pin.

You are welcome in Ommen to collect your order or rental products (order on our webshop and choose for 'pick up'). The showroom is open on appointment.